The ElastiCube Manager enables easy and quick access to databases, tables and views contained in Microsoft SQL Server databases.
Learn more about Sisense's SQL server connector.
The steps below detail how to connect to this type of data source.
Click Add data on the top menu of the ElastiCube Manager.
Under Database servers, select Microsoft SQL Server.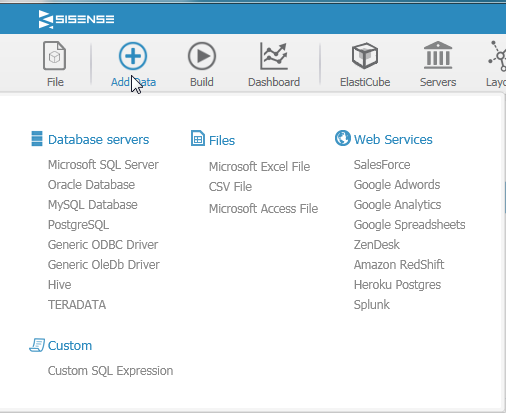 The Connect to SQL Server window is displayed.
Database server location

: Enter the computer/server IP address of the database. To connect to a database running on your own computer enter

localhost.

Select either

Windows Authentication

if configured with the database or alternatively,

Use the Following User Name & Password

, and enter the database credentials

.

(Optional) Select

Encrypt Connection

to configure the driver to encrypt all communication with the SQL Server instance before sending it over the network, and then select

Trust Server Certificate.

Click

Connect to server
From the Select Database dropdown list, select the database you want to work with, and click OK.
All tables and views associated with the database will appear in a new window.
To view a preview of data contained in a particular table, highlight the table or view in the list and click the preview pane below. To preview the table, select the Preview checkbox. Enable the checkbox next to each table or view you would like to use.
Existing relationships between tables can be automatically replicated in the ElastiCube by selecting the Automatically create relationships from database option. Likewise fields with similar names can be linked by selecting the Automatically create relationships for fields with the same name option.
If you want to customize the data before importing it into the ElastiCube, you can run a custom SQL query to manipulate the data. This can be useful, for example, when you want to import only a portion of the data, rather than all of the data. Click here to learn more.
Once all relevant tables are selected, click Add.