Sisense Mobile connects you to your dashboard anytime, anywhere on your Android or iPhone mobile devices. Sisense Mobile decreases time to insight with an intuitive UI, search bar for locating dashboards, and responsive visualizations; You can explore your dashboards with simple gestures optimized to let you dive deep into your data or apply filters to view the data you want.
Check out a demo video below to see how you can tap, zoom, and swipe to interact with your data.
Getting Started
Supported Phones and Operating Systems
iPhone – Requires iOS 8 or later, Supported iPhone 5 device or higher.
Android – Requires Android versions 4.3 or later.
Get Sisense Mobile
To download the Sisense Mobile App for your device, click the relevant link below according to your version of Sisense.
Note: Sisense Mobile is supported by Sisense V6.5 and later.
On tablets, you can use a browser and experience the same full Viewer mode as experienced on a desktop computer, so you will be able to change dashboard filters and drill into fields.
Logging in to Sisense Mobile
After you have downloaded Sisense Mobile, open the app to launch the login screen and enter the server address and your Sisense user credentials.
The server address should include the server IP or domain name (alias). If you are not using the default port (80) you will need to add the port as well, for example: http://xx.xxx.xx.xx:8081. When working with SSL security protocol, use the 'https' prefix.
You can sign out by opening the navigation menu and tapping Sign Out.
Navigating Sisense Mobile
When you first log in to Sisense Mobile, a list of your folders, dashboards, and recently opened dashboards is displayed.
By tapping a dashboard, you can open the dashboard or if your dashboard is located in a folder, tap the folder then tap the relevant dashboard to open it.
You can also locate a dashboard quickly by tapping the search icon and typing the name of the dashboard. As you begin to type, any dashboards that match the characters you entered are displayed.
Once the dashboard is displayed, you can tap the dashboard's title to display more details.
By rotating your device horizontally, you can view your dashboard in landscape view.
Exploring Data
In Sisense Mobile, you can filter and drill down into your data much like you do from your PC.
Filtering Widgets
To filter a dashboard, you can tap the filter icon
. This displays the list of available filters.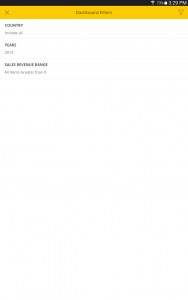 You can disable your filters by swiping left on the filter to display a toggle button. Tap it to disable a filter.
A gray background behind the filter indicates the filter has been disabled.
To dive deeper into your filters, tap the relevant filter to open all of its available options. Then, tap any of the filter options to toggle the filters to your data.
Drilling into your Data
You can drill down in most widgets to get an in-depth view of a selected value. For example, tap on a slice in a pie chart to see the absolute value in addition to the percentage.
In the following example, the left chart shows the lead breakdown by campaign source, and on the right side, the chart shows a breakdown of visits from various social media sources.
Any time you select a value, a tooltip is displayed at the bottom of your screen, which provides a description of the selected value and the drill down
icon. In this example, you see the total lead and its percentage.
Note:  You cannot drill down while in landscape mode.
To return to a higher level, click on a breadcrumb. To drill all the way up, click on the X icon.
Viewing More Details
Sisense Mobile supports a variety of gestures that let you dive deeper in your data and see more details.
| | |
| --- | --- |
| Highlight a Value | Swipe across your Visualizations |
| | |
| Pinch in to Zoom | Pinch out to Expand |
| | |
Sharing Widgets
You can share widgets as PNG images from Sisense Mobile across various apps supported on your device.
In your dashboard, tap a widget to open Widget Mode, then tap the menu icon
 and tap Share. Your device will display a list of apps that you can use to send the image of your widget as a PNG file.
Sisense Pulse
Sisense Pulse is a centralized location where you can stay on top of your most important KPIs across multiple dashboards or manage your data and build alerts. By adding important KPIs from your dashboards to Sisense Pulse, you can get a comprehensive picture of your data from a single location.
Sisense Pulse contains tiles that display information from your dashboards and the status of your ElastiCube builds.
Within Sisense Pulse, there are two types of tiles, data tiles that display your widgets' current status and recent history and build tiles that display the latest status of your ElastiCube builds.
In Sisense Mobile you can manage your alerts from Sisense Pulse or create data alerts based on widgets in your dashboards.
Note: Build alerts can only be created from the Sisense Web Application.
You can access Sisense Pulse from Sisense Mobile by opening the navigation menu and tapping Pulse.
Creating Data Alerts
Data alerts are triggered by conditions you define for your widgets. For example, if you have an Indicator widget that represents your company's revenue, you can define an alert that notifies you when this revenue reaches or falls below a certain threshold.
For each type of widget you can add to Pulse, you can monitor a single value. For example, for Column charts, you can monitor a single section (value) of a column. To monitor multiple values, you can add each value you want to monitor to Pulse separately.
When you create an alert for a specific value, Sisense applies any filters that were already applied, for example, if you create a data alert for the total revenue of a given age range, the pulse alert created will be called Total Revenue and will be filtered by the value of the age range you selected.
To create a data alert, from your dashboard, tap the relevant widget to open it in Widget Mode. In Widget Mode, tap the value you want to monitor, then tap the menu icon 
 and tap Add to Pulse. This opens the Alert Conditions menu where you select the type of data alert you want to create. For example, if you create a threshold data alert, the following settings are displayed.
After you have set the conditions, tap Save and the new alert will be added to Sisense Pulse.
Managing Alerts
You can manage your alerts from Sisense Pulse. In Sisense Pulse, tap the relevant tile to open Tile Mode. Once you're in Tile Mode, the menu icon 
 is displayed in the top right corner. Tap it to display a list of alert management options.
From the options area, you can edit alerts, delete alerts, deactivate alerts, and toggle notifications.
Pulse Notifications
If your Sisense user has been configured to receive Pulse alerts to your mobile device, when an alert is triggered, you will receive a notification from the Sisense Mobile app.
You can swipe left on an alert to clear the alert or to view the alert in Sisense Pulse.
To clear all alerts, click the trash can icon
 at the top of the notification feed.
Note: You must have Sisense Mobile installed to receive Pulse notifications.
Security
Sisense Mobile uses the Sisense REST API and SisenseJS. All access is fully authenticated using the regular Sisense server authentication.
Sisense Mobile must have access to the Sisense server. This can be achieved using one of the following:
The Sisense server is accessible from the internet.
The Sisense server is accessible from an internal network, and Sisense Mobile has Wifi connectivity to the internal network.
The mobile device has VPN connectivity to the Sisense server.
Single Sign On
If you have implemented Single Sign On (SSO), your users can log in to the Sisense Mobile app.
This is useful for maintaining one set of login credentials across multiple apps. See Single Sign On (SSO) for more information.
Plugins
Sisense Mobile V2.3 and above supports Sisense plugins and supports plugins made with the Sisense JavaScript API.
For information on developers plugins for Sisense Mobile, click here.
Supported Sisense Plugins
The following table lists Sisense plugins that are supported on Sisense Mobile.
| Plugin | Comment |
| --- | --- |
| Aggregated Table | |
| Auto Add Filter Based On User | |
| Comments | Always use an absolute URL for the form. |
| Dynamic Buckets | |
| Embed Images | Always use absolute URLs for the image. |
| Filtered Measure (Parameter) | |
| Forecasting | |